Details

Published: 23 March 2017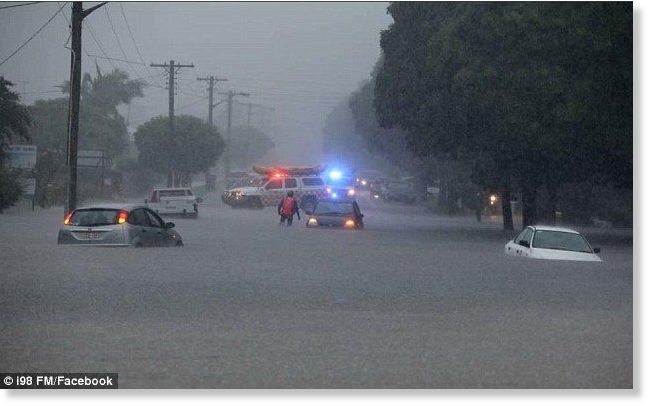 Some parts of New South Wales (NSW), Australia, have recorded over 500 mm of rain in the last 7 days as a low-pressure system drenched the region.

Over the weekend of 17 to 19 March, parts of the state's northeast and Mid North Coast were hardest hit. On 18 March, Australia's Bureau of Meteorology (BoM) said that 21 stations had recorded more than 100 mm of rain that day and Evans Head had recorded around 100 mm in just two hours.

According to BoM figures, New Italy recorded 506 mm, Mt Seaview 509 mm of rain in 7 days to 20 March 2017.

In an update of 18 March, NSW State Emergency Service (SES), said:
"The worst affected areas have been around the Mid-north Coast and southern areas of the North Coast. According to the Bureau of Meteorology, approximately 150mm of rain fell around the town of Yamba since midnight, which led to the short-term isolation of the town's 6000 residents."
Numerous roads have been flooded, including the Pacific Highway north of Yamba which was at a standstill for hours when dozens of cars were trapped after attempting to drive through floodwaters.

By Sunday, as many as 85 flood rescues had been carried out by SES crews. Many rescues were a result of people not heeding warnings to stay out of floodwaters.

SES said they received over 3,308 calls for assistance during the last week, with 550 of the calls coming on Saturday 18 March. SES say that affected areas included Hornsby, Coffs Harbour City and Gosford as well as Yamba.

Local media reported that the body of an eleven year old boy was found on Friday, 18 March, 2017. The boy had gone missing in the floods in Unanderra, a suburb of Wollongong.

BoM said that as many as 16 rivers were under some kind of flood warning, including the Orara River, Bellinger River, Hastings River, Williams River and Coffs Creek.

As of 20 March some areas remained cut off by the flood water, including Shannondale, Buccarumbi, Thora, Taylors Arm and Iluka.

SES said that more rainfall is expected for the northern inland of NSW from 21 March, with shower activity to continue for large parts of eastern NSW during the week. SES added:
"With so much rain and flash flooding on the roads, NSW SES Volunteers urge people in these affected areas to stay out floodwater, and to prepare their properties now to help prevent any storm damage."
Rainfall in New South Wales





Wide areas of the state have recorded more than 300 mm of rain in the last 7 days.

According to BoM figures, New Italy recorded 506 mm, Mount Seaview 509 mm and Dorrigo 496 mm of rain in 7 days to 20 March 2017.

Evans Head recorded 362mm during the same time, while Ballina recorded 306 mm, Katoomba 324 mm and Coffs Harbour 345 mm.

Sydney meanwhile recorded 111 mm of rain in the 7 day period.



Significant 24 hour totals



15 March

Goonengerry 182 mm

16 March

Sawtell 230 mm
Boambee Res. 206 mm

18 March

Crystal Creek 204 mm

19 March

Mt Seaview 229 mm
Mooral Creek 190 mm