Around 100 000 residents living near erupting Agung volcano in Bali, Indonesia have been told to evacuate, officials said Monday, November 27, 2017. Late Saturday, November 25, hours the after the second phreatic eruption within a week started, Agung shifted into magmatic phase. Lahars were observed descending down the mountain on Sunday, prompting authorities to raise the alert level back to 4 (highest) at 22:00 UTC. Residents and tourists are warned to stay away from the volcano. The Aviation Color Code is at Red, continuous volcanic ash emission is rising up to 9.1 km (30 000 feet). There are currently no airplanes coming in or out of Bali.
With a thick dark gas and ash rising more than 3 400 m (11 150 feet) above the crater, the eruption at Mount Agung continues to increase, Sutopo Purwo Nugroho, spokesperson for the National Board for Disaster Management (BNPB), said early Monday. 
Continuous ash emission is sometimes accompanied by explosive eruptions, with sounds heard up to 12 km (7.4 miles) from the summit. "There is a potential for a larger eruption," Nugroho said, adding that communities around the volcano and climbers/visitors/tourists are warned not to climb the mountain and respect the danger zone which is now expanded to all areas within a radius of 8 km (5 miles) from the crater and as far as 10 km (6.2 miles) to the north-northeast and southeast-south-southwest. This means some 100 000 people must evacuate.
Image Below: Agung danger zone November 26 and 27, 2017. Credit: BNPB
"We ask people in danger zone to evacuate immediately because there is potential for a larger eruption," Nugroho said.
"So far, some 40 000 have been evacuated but a further 60 000 also need to move," he said. "There are those who haven't evacuated because their farm animals haven't been evacuated yet and those who feel they are safe because their area hasn't been affected during 1963/64 eruption," Sutopo said, adding that security personnel were trying to persuade people to leave but they could be evacuated by force. Bali governor Made Mangku Pastika later said that 150 000 could be called on to evacuate.
At least 445 flights at Ngurah Rai International Airport, Bali's main airport, were canceled for 24 hours starting 00:15 UTC, November 27 (07:15 local time), stranding some 59 000 domestic and international passengers. The closure is in effect until Tuesday morning but officials said the situation would be reviewed every six hours. The airport on neighboring island Lombok reopened on Monday morning after it was shut briefly.
The danger zone is dynamic and continuously evaluated, and can be changed at any time following the most recent observational data, BNPB said.
According to Darwin VAAC VONA issued 12:50 UTC Monday, continuous volcanic ash emission is rising up to 9.1 km (30 000 feet).
There is no way to predict how this eruption will evolve. It may dampen down or evolve into a very big eruption.
The last major eruption of this volcano started on January 18, 1963 and ended January 27, 2017. It had Volcanic Explosivity Index (VEI) of 5 (out of 7) and was responsible for deaths of nearly 1 600 people.
Geological summary
Symmetrical Agung stratovolcano, Bali's highest and most sacred mountain, towers over the eastern end of the island. The volcano, whose name means " Paramount," rises above the SE caldera rim of neighboring Batur volcano, and the northern and southern flanks of Agung extend to the coast.
The 3142-m-high (10 308 feet) summit contains a steep-walled, 500-m-wide (1 640 feet), 200-m-deep (656 feet) crater. The flank cone Pawon is located low on the SE side.
Only a few eruptions dating back to the early 19th century have been recorded in historical time. The 1963-64 eruption, one of the world's largest of the 20th century, produced voluminous ashfall along with devastating pyroclastic flows and lahars that caused extensive damage and many fatalities. (GVP)
Featured image: Mount Agung erupting on November 26, 2017. Credit: Sutopo Purwo Nugroho / BNP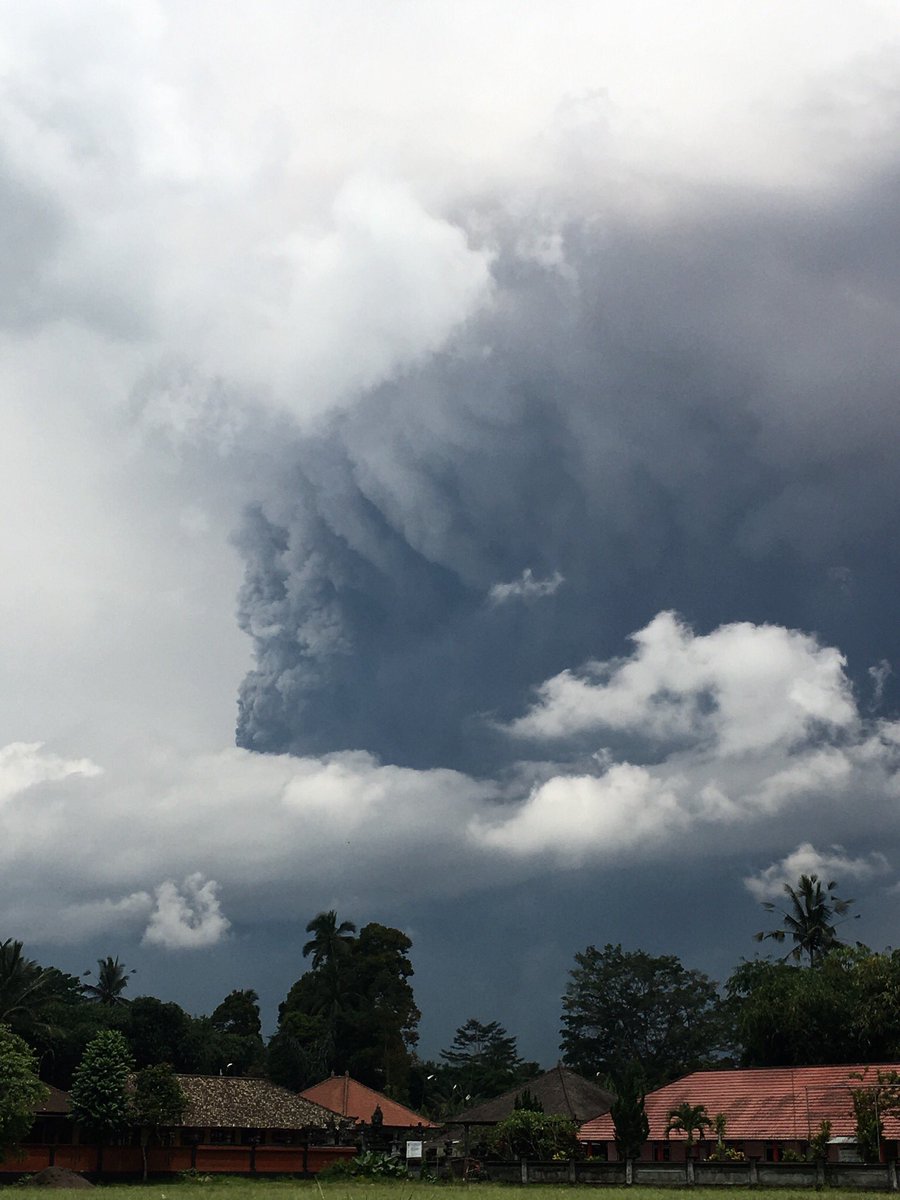 Where is the volcano?
Mount Agung rises about 3,000m above Bali's Karangasem district, in the island's east. Bali lies within the so-called Pacific ring of fire, an area of high seismic and volcanic activity where thousands of tremors occur each year.
Has it erupted before?
Mount Agung's last major eruption in 1963 killed about 1,100 people and razed many villages. More than 50,000 Indonesians were evacuated in September this year when experts warned an eruption was imminent. About 25,000 people have been unable to return to their homes since then.
What is happening this time?
21 November – a minor eruption sent a plume of ash and steam rising about 700m. Volcanologists said it was caused by magma heating water (phreatic eruption). No alert was issued.
25 November – three minor eruptions sent a plume rising 4,000m and coated nearby villages in a layer of ash. An exclusion zone of 7.5km was put in place and some flights were diverted or cancelled.
26 November – Indonesia's Volcano Observatory Notice for Aviation updated to code red, predicting a further eruption with significant volcanic ash. Some flights were cancelled. Experts said the eruption was being driven by magma rather than steam.
27 November – Indonesian authorities raised the alert to the highest level and ordered people within 10km to leave as experts warned of an imminent risk of a larger eruption. Australia's Bureau of Meteorology said the ash plume had risen to 9,144m. Denpasar airport was closed for 24 hours.
How long will it last?
Australia's BOM expects eruptions and ash to continue for at least 24 hours. Indonesian government volcanologist Gede Suantika estimates Agung could spew ash for at least a month.
Authorities also warned of dangerous mudflows.
Video released by Indonesia's disaster mitigation agency showed water and volcanic debris flowing down the slopes of Mount Agung as rain fell on the island.
Sutopo said people should stay away from rivers because mudflows can move rapidly and are a frequent killer during volcanic eruptions.
Putu Sulasmi fled with her husband and other family members to a sports hall that is serving as an evacuation centre.
"We came here on motorcycles. We had to evacuate because our house is just 3 miles from the mountain. We were so scared with the thundering sound and red light," she told Associated Press.
The family had stayed at the same sports centre in September and October when the volcano's alert was at the highest level for several weeks but it didn't erupt. They had returned to their village about a week ago.
"If it has to erupt let it erupt now rather than leaving us in uncertainty. I'll just accept it if our house is destroyed," she said.
Airport spokesman Air Ahsanurrohim said 445 flights were cancelled, stranding about 59,000 travellers. The closure was in effect until Tuesday morning though officials said the situation would be reviewed every six hours.
Instrumental measurement of Mt Agung began after the last big eruption occurred in 1963, an event that lasted a year and killed more than 1,000 people.
Bali is Indonesia's top tourist destination, with its Hindu culture, surf beaches and lush green interior attracting about 5 million visitors a year.
Some flights to and from Bali were cancelled on Saturday and Sunday but most had continued to operate normally as the towering ash clouds were moving east toward the neighbouring island of Lombok.
Bali's governor, Made Pastika, said he was urging hotels on the island to allow stranded foreign tourists to stay free of charge, especially cash-strapped backpackers.
"Yes, I'm asking. This is a disaster. Especially for those who have spent all their money," he said. The governor is also coordinating with the immigration office to ensure the extension of visas for tourists forced to overstay due to the volcanic activity.
"We now have to find a hotel and spend more of our money that they're not going to cover us for when we get home unfortunately," said Canadian tourist Brandon Olsen, who was stranded at Bali's airport with his girlfriend.