CONTINUED REPORTS OF MASS BIRD & FISH DEATHS
Jan 21, 2011
BEEBE, Ark. — Preliminary autopsies on 17 of the up to 5,000 blackbirds that fell on this town indicate they died of blunt trauma to their organs, the state's top veterinarian told NBC News on Monday.
Their stomachs were empty, which rules out poison, Dr. George Badley said, and they died in midair, not on impact with the ground.
That evidence, and the fact that the red-winged blackbirds fly in close flocks, suggests they suffered some massive midair collision, he added. That lends weight to theories that lightning, hail or New Year's Eve fireworks hit or startled the birds.
Earlier Monday, the estimated number of dead birds was raised to between 4,000 and 5,000, up sharply from the initial estimate of 1,000.
Keith Stephens, a spokesman for the Arkansas Game and Fish Commission, provided the new numbers.
Residents of the small town of Beebe awoke Saturday to find thousands of dead blackbirds littering a 1.5-square-mile area. The birds inexplicably dropped dead, landing on homes, cars and lawns.
Violent weather rumbled over much of the state Friday, including a tornado that killed three people in Cincinnati, Ark. Lightning could have killed the birds directly or startled them to the point that they became confused. Hail also has been known to knock birds from the sky.
Bird deaths also reported from South America within a 24 hour period of the Arkansas, USA incident. (See video)
UPDATE #1: Hundreds of dead blackbirds found in Louisiana
LABARRE, La. - Around 500 dead blackbirds and starlings have been found in Pointe Coupee Parish, according to state wildlife officials.
The birds were spotted lying in roads and ditches near Labarre Elementary School. The community is between Morganza and New Roads on Highway 10.
Scientists from the Louisiana Department of Wildlife and Fisheries have been sent out to collect samples, which will be sent for testing to the University of Georgia and National Wildlife Center in Wisconsin.

UPDATE #2: Dead Birds Now Found In Sweden
First Arkansas, then Louisiana, then Kentucky, and now Sweden. What do they all have in common? A large amount of dead birds falling out of the sky. What in the world is going on? The dead birds in Sweden are all of one species, just as was the case in Arkansas, Louisiana, and Kentucky. They are not the red-winged blackbird, but they are a type of crow called jackdaws. According to reports, 50-100 of the birds fell from the sky in central Sweden.

UPDATE #3 40,000 dead crabs washed up on Kent coastline
Thousands of dead crabs have washed up along the Kent coast – the latest in a series of bizarre animal deaths sweeping the world. More than 40,000 Devil crabs – also known as Velvet swimming crabs – were found strewn along beaches in Thanet along with dead starfish, lobsters, sponges and anemones.



UPDATE #4 One Hundred Tons of Dead Fish Found in Brazil
Brazil is the first Latin American country to be hit by the bizarre wave of mass animal deaths in the world. Reports by the Federation of Fishermen of Paraná, Paranaguá indicate that at least one hundred tons of fish (sardine, croaker and catfish) have turned up dead since last Thursday, off the coast of Paraná.



UPDATE #5 Thousands of Dead Fish Wash Up in South Carolina
Thousands of dead fish were found on Folly Beach Thursday morning. The Department of Natural Resources says the fish are all of the same species -- Menhaden.
DNR officials believe the fish kill could be cold related because we're experiencing below average ocean temperatures off the South Carolina coast. The discovery only adds though to a nationwide mystery involving similar occurrences of mass fish and bird deaths.




UPDATE #6 Thousands of Turtle Doves Drop Dead in Italy
Thousands of turtle doves have rained down from the skies on an Italian town in the latest mass animal deaths sweeping the world.
The bodies of the birds, with a mysterious blue tinge to their beaks, crashed down on roofs of homes and cars in Faenza, near Ravenna in northern Italy.
For the last five days wildlife experts and officers from the forestry commission have picked up more than 1,000 turtle doves as well as other birds including pigeons.


UPDATE #7 Two Million Dead Fish in Maryland
Maryland officials are investigating the deaths of around 2 million fish in Chesapeake Bay just days after the deaths of about 100,000 fish in northwest Arkansas.
The Maryland Department of the Environment said in a press release "Cold water stress exacerbated by a large population of the affected species (juvenile spot fish) appears to be the cause of the kill."
In Arkansas, authorities believe disease was the reason for the mass fish deaths.
CNN reportsthat tests already conducted in Maryland show the water quality is acceptable.
UPDATE #8 300 Birds Fall from Sky in Alabama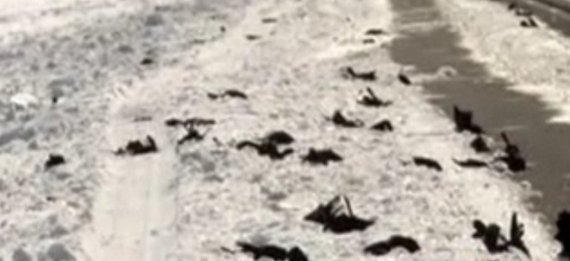 An estimated 300 dead birds have been found on the side of the I-65 highway in Alabama, WAFF News reports. According to wildlife biologist Bill Gates, the birds are grackles, a common black bird, one of the same species reported in the past weeks to have been found dead in mass quantities in other nearby states like Arkansas, Louisiana and Kentucky.


UPDATE #9 Thousands of dead octopuses wash up on Portugal beach
Thousands of dead octopuses have washed up on a beach in northern Portugal, in what is being called an environmental disaster. They cover a 5-mile stretch of Vila Nova de Gaia beach - no reason has yet been found for their appearance.