BUSH fires across Australia's New South Wales have ravaged the country since November last year. Here are the most terrifying NASA pictures of the Australia fires from space.
Apocalyptic scenes are unfolding in Australia where raging wildfires have scorched more than 12 million hectares of land. The fires are burning across the country but the states of New South Wales and Queensland have felt the worst impact.
With scorching temperatures topping 40C (104F) degrees in parts of the country and the death toll at 24, the fires have escalated to "an entirely new level".
The scale of the Australian fires is revealed in these satellite images complied by the US space agency NASA.
NASA's pictures show clouds of thick smoke blanketing southeast Australia and wafting more than 1,240 miles (2,000km) over to New Zealand.
Photos snapped on January 1 reveal the Bass Strait between Australia and Tanzania hidden behind a cover of smoke.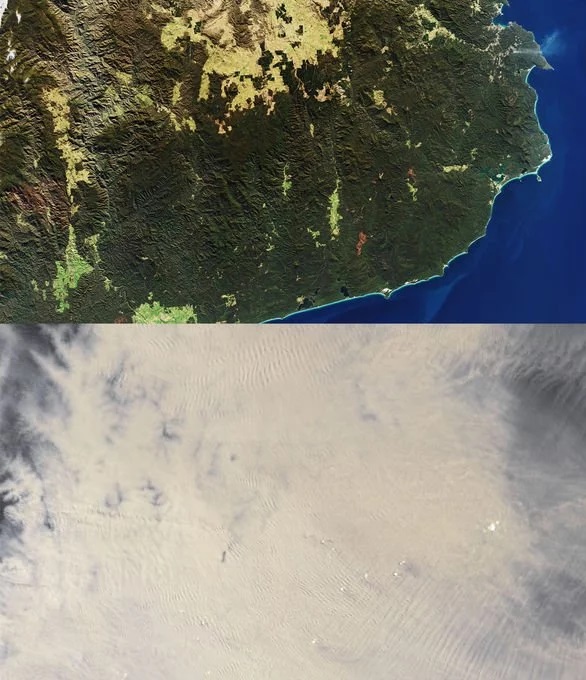 NASA said: "The record-setting and deadly fire season in Australia took a dramatic turn in the last week of December and first week of January.
"Residents of southeastern Australia told news media about the daytime seeming to turn to night, as thick smoke filled the skies and intense fires drove people from their homes."
On Saturday, January 3, Australian Prime Minister Scott Morrison called on 3,000 army reservists to help contain the fires.
Mr Morrison said: "We are facing another extremely difficult next 24 hours.
"In recent times, particularly over the course of the balance of this week, we have seen this disaster escalate to an entirely new level."
Wildlife experts fear the fires have killed nearly 500 million animals.
According to Professor Chris Dickman of the University of Sydney, large animals like kangaroos and emus have been affected by the inferno.
Smaller animals like koalas have also been affected, with animals suffering burns and dehydration.
In December 2019, NASA's Terra satellite snapped a number of "thermal hotspots" burning across New South Wales.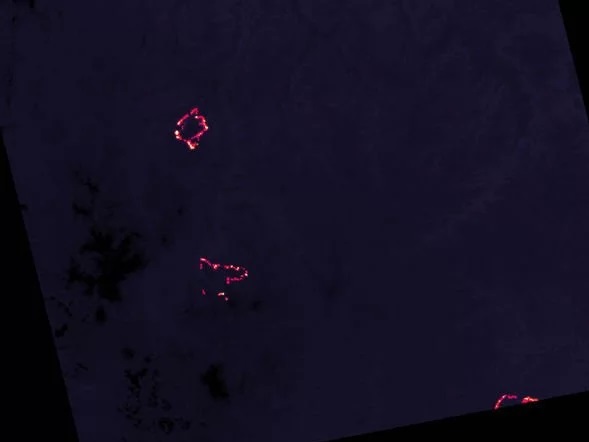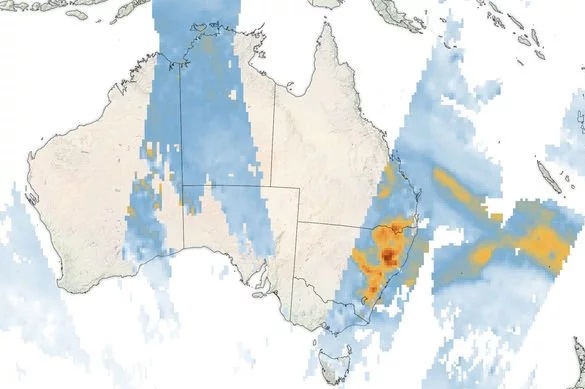 One picture taken on December 7, 2019, shows an active ring of fire burning in the dead of night to the west of Newcastle, Australia.
Another satellite image taken on December 8, reveals clouds of carbon monoxide (CO) being released into the atmosphere by the fires.
NASA said: "Normal levels of CO are less than 2 on this scale.
"Released by the burning of plants and fossil fuels, carbon monoxide is an odourless gas that is dangerous to breathe; it also can lead to the formation of ground-level ozone.
"Higher in the atmosphere, CO is a signal of the amount of greenhouse gas being pumped into our ever-warming air."
Plumes of smoke were also seen rising from New South Wales on November 14 last year.
Pictured by the Multi-angle Imaging SpectroRadiometer (MISR) instrument, the picture reveals "aerosol-laden smoke" smokestacks rising from Australia.
NASA said: "Air quality indices in southeastern Australia and as far east as New Zealand have been near or above the highest reportable levels.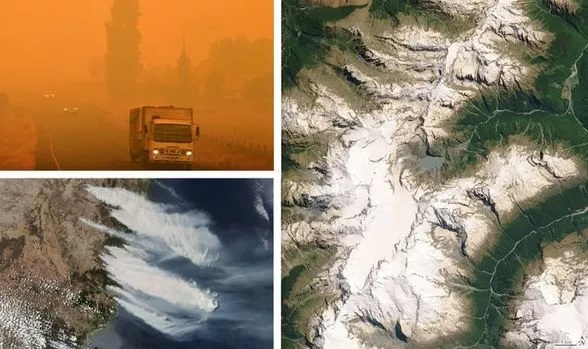 "In a late December 2019 report, the Australian Bureau of Meteorology reported that its Forest Fire Danger Index (FFDI)—which blends data on air temperatures, humidity, precipitation, winds, and other factors—has been well above average for 95 percent of the nation.
"More than 60 percent of Australia set record highs for fire danger this season, and the summer is only just underway."