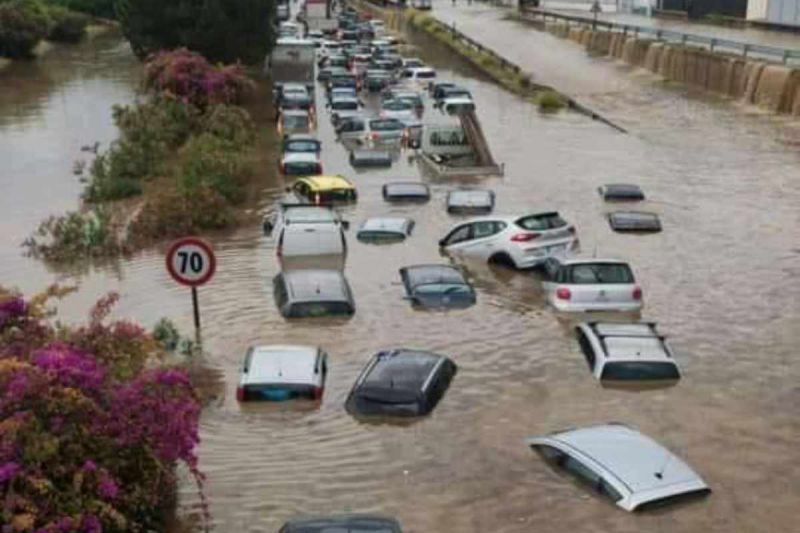 Deadly flash floods caused by severe thunderstorms lashed parts of Sicily, Italy, on Wednesday, July 15, 2020, resulting in massive disruption. Palermo City's astronomical observatory recorded 74 mm (3 inches) of rain in just a few hours, breaking the previous wettest July day record set 85 years ago.​ Palermo mayor described the downpour as the worst since 1970 -- 'equal to what the city registers in a year.'
Underpasses were submerged while streets turned into raging rivers, sweeping away many vehicles and covering them in muddy debris. 
Hundreds of motorists were forced to abandon their cars as torrential rains inundated tunnels.
Two people went missing after their car was swept away by floodwaters. The pair tried to take shelter in an underpass, but the road quickly became inundated, trapping them inside. Search and rescue operations are ongoing.
Nine people sustained injuries and two children were treated for hypothermia.
"I'm from Palermo and truly I've never had so much anxiety in my life," one local said as she shared photos of the devastating scene, showing numerous cars stuck in floodwaters. "Whoever is from Palermo area, stay at home."
According to a statement by Palermo mayor Leoluca Orlando, over 1 m (3.3 feet) of rain fell in less than two hours. "It is the most violent rain in the history of the city since 1970, equal to what we receive in a year."
While his rainfall data is exaggerated -- as Palermo has an annual rainfall average of 615 mm (24.2 inches) -- in terms of how violent the rain was, Orlando was spot on since the city records only about 5 mm (0.2 inches) of rain in the entire month of July.
The city's observatory registered 74 mm (3 inches) of rain in just a few hours, smashing the previous 24-hour July rainfall record set on July 6, 1935, with 39.2 mm (1.5 inches). Other private weather stations recorded more than 100 mm (4 inches) within a short period of time. 
🔴 #Palermo, estratta una delle auto nel sottopasso, nessuno all'interno. Prosegue il lavoro dei #vigilidelfuoco per escludere la presenza di persone nelle altre auto ancora sommerse #16luglio 10:30 pic.twitter.com/L0TlTW7GpK

— Vigili del Fuoco (@emergenzavvf) July 16, 2020
As of Thursday, July 16, officials are considering opening an investigation into the flash floods that "brought the Sicilian capital to its knees," ANSA said. 
The agency noted that the floods, caused by a sudden burst of rain, caused massive disruption and damage. Firefighters carried out 320 emergency operations, it added.
On Tuesday afternoon, July 14, a large tornado hit Mineo, causing major damage to an industrial area. Other areas affected were Sardinia and Calabria.