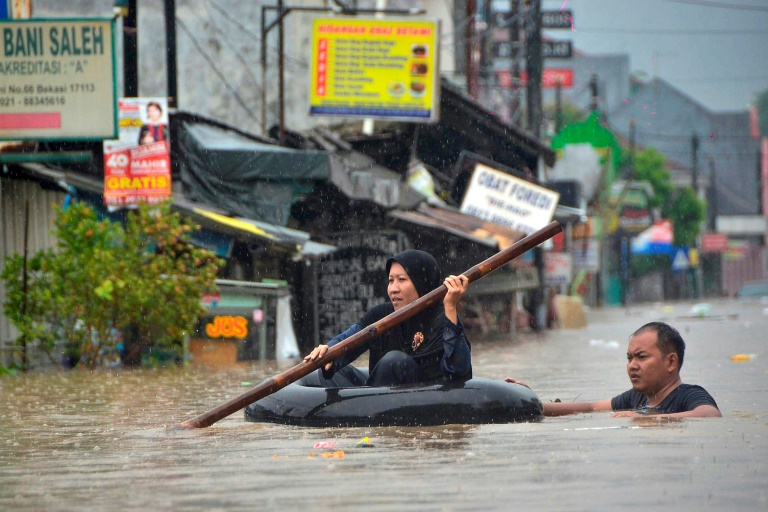 Massive floods hit Indonesian capital Jakarta on January 1, 2020, killing at least 14 people and forcing tens of thousands to evacuate. Several million were left without power and drinking water.
According to Meteorology, Climatology and Geophysics Agency (BMKG), in just 24 hours from December 31 to January 1, three rainfall monitoring stations recorded from 259 to 377 mm (10.2 - 14.8 inches) of rain -- the highest rainfall intensity in more than 20 years. On average, Jakarta sees 203.2 mm (8 inches) of rainfall during the entire month of December.
Floodwaters were as high as 2 m (6.5 feet) in Jakarta, Bogor, Depok, Tangerang, and Bekasi (Jabodetabek), authorities reported.
The weather disrupted land and air traffic and vital services, leaving millions of people without power, drinking water, and the internet for several hours.
At least 21 commercial flights were disrupted at Halim Perdanaksusumah airport in East Jakarta.
Perusahaan Listrik Negara, a state utility company, said power supply was cut off in 724 locations in Jakarta, Bogor, Depok, Bekasi and Tangerang to avoid exposing people to electric shock.
Power was gradually restored for some areas at 18:00 local time, but more than 3 300 of 23 700 distribution substations remained shut down.
Authorities confirmed the deaths of 14 people, but the toll is expected to rise. Several people are still missing.
Seven people were killed and one person is missing after floods and landslides hit Bogor, BPBD said. Three people were killed in Depok, West Java after another landslide hit the region. One teenager in Central Jakarta died after he was exposed to electric currents in floodwaters.
The capital is overcrowded, gradually sinking and forecasted to face water scarcity by 2040. These are reportedly the main reasons why the government decided to relocate the nation's capital to the East Kalimantan province on Borneo Island.
Construction on the new site is expected to start in 2021, while the first residents are likely to relocate in 2024.

Typhoon Phanfone Destroys Crops and Homes on Christmas Day in the Phillippines
This was the 21st cyclone to hit the Southeast Asian nation for the year 2019.
The terrifying Christmas storm damaged an estimated 1 billion pesos ($19.7 million) worth of crops and infrastructure, including more than 265,000 homes