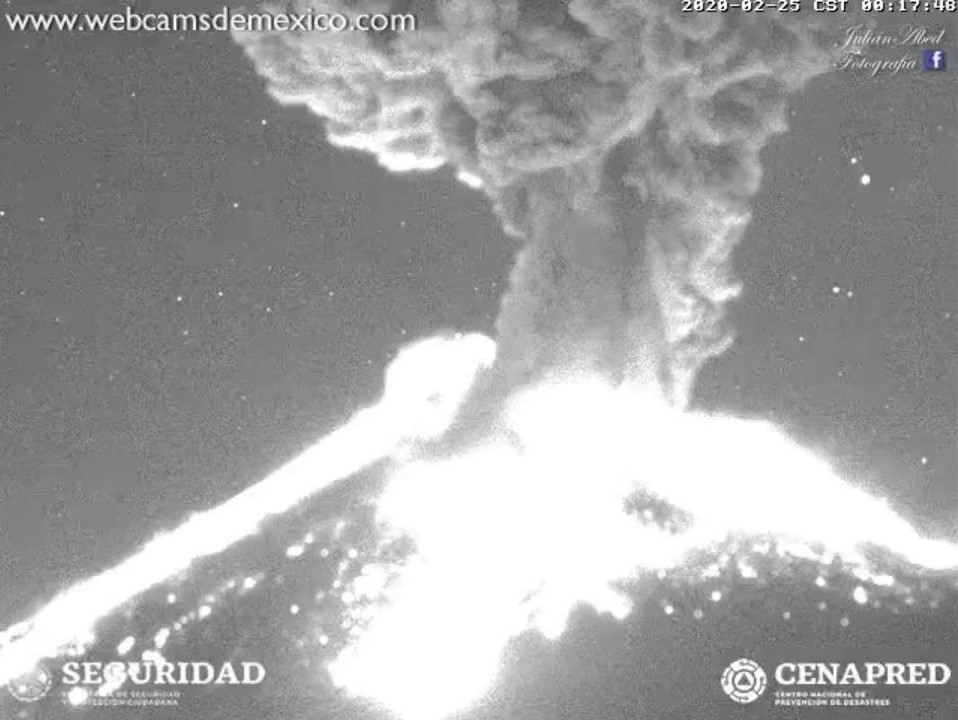 At 11:13 UTC, the volcanic ash cloud was 130 km (80 miles) E of the summit.
New emissions after 06:20 UTC were registered moving NE, with the farthest 185 km (115 miles) away and new volcanic ash emission around 46 km (29 miles) from the summit
In 24 hours to 17:00 UTC on February 24, the monitoring systems of the Popocatépetl volcano identified 148 exhalations, 1 moderate moderate explosion, and 10 minor explosions. The explosions had low ash content and dispersed to the southwest. 525 minutes of tremor were also recorded.
With the support of the National Guard, an overflight of the volcano crater was carried on February 18. During this overflight, specialists from the National Center for Disaster Prevention (CENAPRED) of the National Civil Protection Coordination and researchers from the Geophysics Institute of UNAM, were able to observe the morphological conditions of the volcano. 
The internal crater maintains a diameter of 350 m (1 150 feet) and its approximate depth is 100 to 150 m (330 - 492 feet), which is covered by tephra. In general, no substantial changes have been observed.
This eruption comes just two days after another eruption that sent ash spiraling 1 mile into the sky.