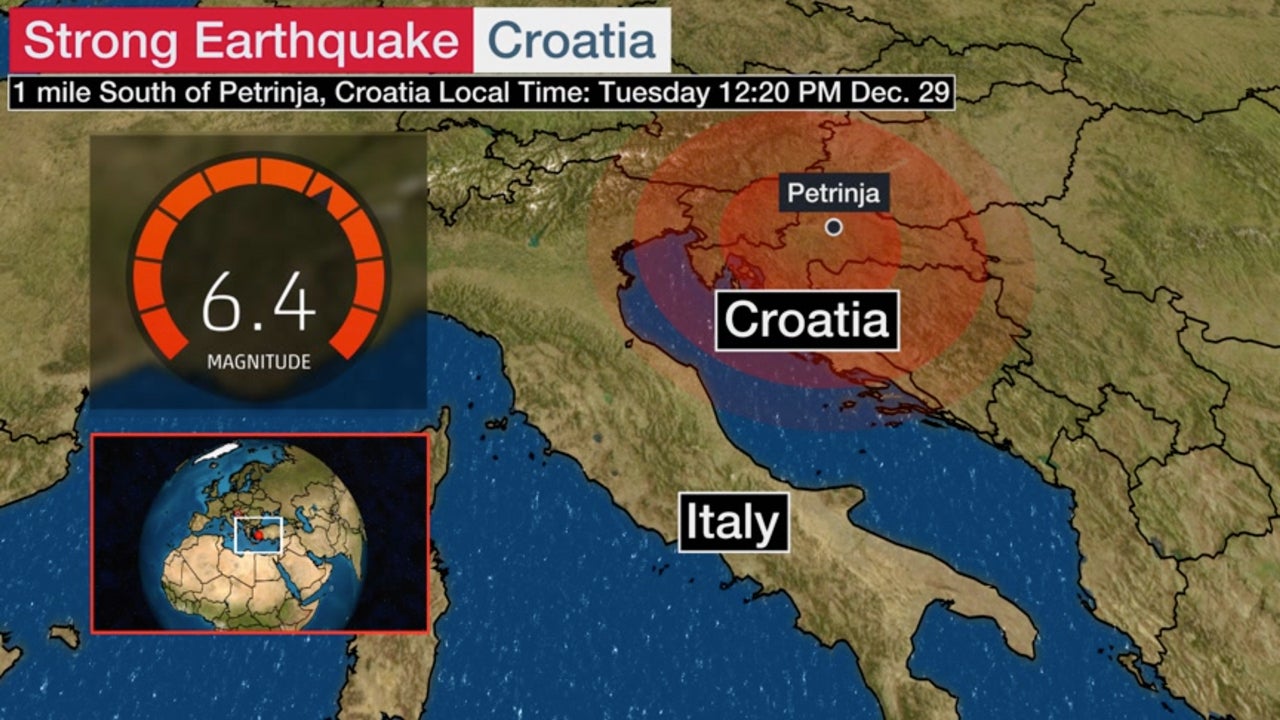 A very strong and shallow earthquake registered by the EMSC as M6.4 hit central Croatia at 11:19 UTC (12:19 LT) on December 29, 2020. The agency is reporting a depth of 10 km (6.2 miles). USGS is reporting M6.4 at a depth of 10 km (6.2 miles). GFZ Croatia is reporting M6.2.
The epicenter was located just north of the city of Petrinja (population 24 641), 12 km (7.4 miles) WSW of Sisak (population 35 700), and 44 km (27.3 miles) SE of capital Zagreb (population 698 000), Croatia.
There are about 2 820 000 people living within 100 km (62 miles).
38 000 people are estimated to have felt severe shaking, 73 000 very strong, 1 168 000 strong, 1 261 000 moderate and 17 142 000 light.
Numerous homes and buildings have been damaged / collapsed, in and around the city of Petrinja.
Rescue teams are searching through the rubble.
Many people have been injured. The first confirmed victim was a 12-year-old girl from the city of Petrinja.
Power outages have been reported, internet and telecommunication services near the epicenter are down.
Reports from a village near Petrinja say 9 out of 10 homes in the village have collapsed.
People across the region are still in the streets, including in the capital Zagreb -- still suffering from a series of destructive earthquakes in March 2020 (the strongest since 1880).
This region was hit by several moderately strong and damaging earthquakes on December 28 -- including M5.2 at 05:28 UT and M4.9 at 06:49 UTC. When today's earthquake struck, many people were in already damaged homes, evaluating damage or trying to repair it.
Aftershocks are still shaking the region, including dozens above M2.5.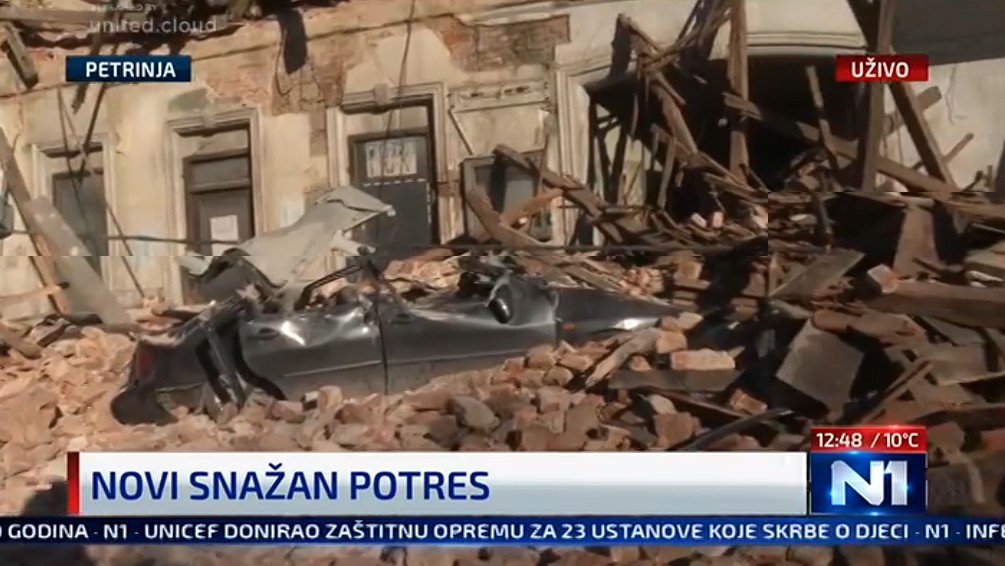 The USGS issued a Yellow alert for shaking-related fatalities. Some casualties and damage are possible.
Orange alert was issued for economic losses. Significant damage is likely and the disaster is potentially widespread. Estimated economic losses are 0-1% GDP of Croatia. Past events with this alert level have required a regional or national level response.
Overall, the population in this region resides in structures that are vulnerable to earthquake shaking, though resistant structures exist. The predominant vulnerable building types are mud wall with wood and unreinforced brick with mud construction.
Recent earthquakes in this area have caused secondary hazards such as landslides that might have contributed to losses.
Estimated population exposure to earthquake shaking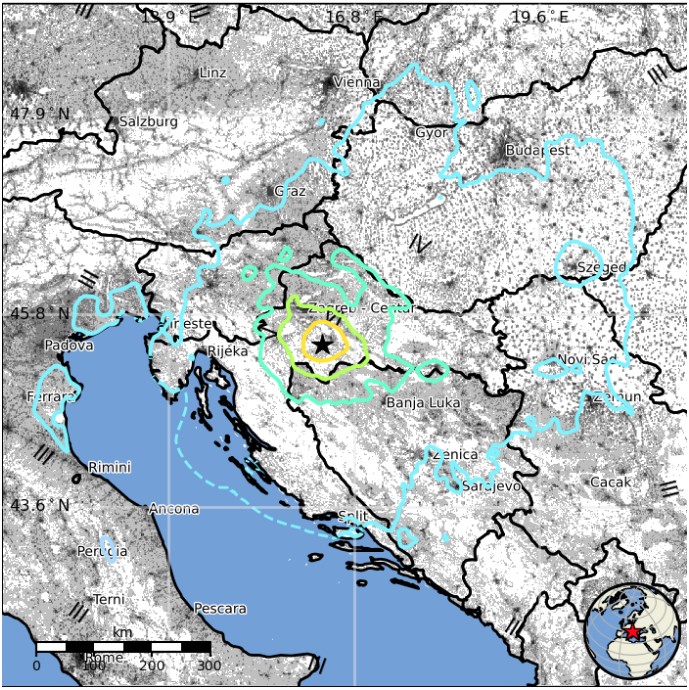 Regional seismicity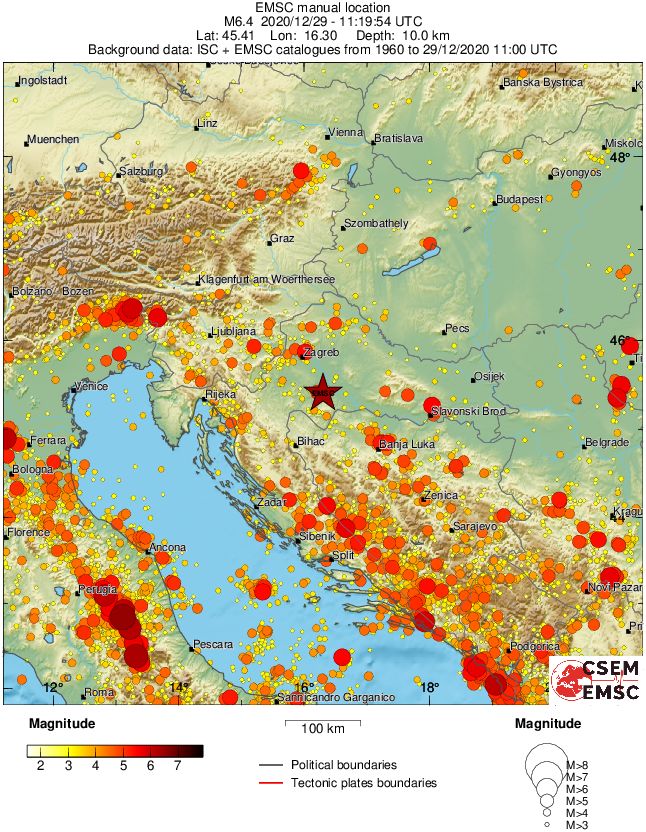 Updates
14:24 UTC
The only bridge connecting Petrinja with the rest of central Croatia is damaged. Traffic in and out of the city is disrupted and the bridge is still being used, as of 14:20 UTC, although heavily damaged.
The police are cautioning everyone to use it at their own risk.
14:30 UTC
The main hospital in Petrinja is reportedly almost completely destroyed as well as all buildings in Petrinja city center.
One woman is missing.
Dozens of people have been injured.
16:25 UTC
The death toll has risen to 5, after three more confirmed deaths in the village of Majske Poljane. Survivors say 90% of houses there were destroyed.
It's now 17:26 LT in Croatia, the night has arrived. 
Search and rescue operations are in progress. However, many villages still have people trapped under the rubble.
Authorities are urging residents of this entire region to stay out of homes, especially if they were damaged.
Aftershocks continue and the death toll is expected to continue rising.