The explosion that rocked Akure, Ondo state capital, on Saturday, was caused by a giant rock from space known as meteors, a team of experts have concluded.
A meteor is what happens when a meteoroid – a small piece of an asteroid – burns up upon entering earth's atmosphere, creating a streak of light in the sky.
The experts led by Adepelumi Adekunle, a professor of geophysics and earthquake engineering at Obafemi Awolowo University, said the meteors impacted the location from "an angle of 43 degrees".
TheCable obtained a copy of their report findings on the explosion on Sunday.
TheCable had reported how the blast, which occurred on Saturday morning, injured some residents and destroyed a lot of houses in the area.
The explosion also caused a deep crater on the site it occurred, cutting off the road and hindering vehicular movement.
Rotimi Akeredolu, governor of the state, had told journalists the blast occurred after a truck conveying explosives to a quarry exploded.
"I have been briefed by the security chiefs that in the early hours of Saturday March 28th, a vehicle in a convoy transporting explosives to a storage facility in a neighbouring state developed a fault while in transit along the Akure Owo Road about 2km from the Akure Airport," the governor had said.
But Adekunle said findings by his team suggest the explosion was caused by a natural phenomena, thereby contradicting the governor.
He added there was no evidence of a buried vehicle, buried ordinance or explosives from the site, and that "foreign rocks and strange metallic objects" were found within the crater crated.
His report read: "My Research group carried out a detailed analysis of the impact site. A circular impact crater with 21m diameter and 7.8m depth was found which suggest a natural phenomenal.
"Water was found oozing out from the edges of the crater. A preliminary insitu vibration, noise, seismicity, water analysis, radioactivity studies, rock and soil investigation were carried out.
"Our findings suggest that the impact of the blasting covers 1km radius of the surroundings of the crater. No evidence of fire or Burning of anything was found within the vicinity.
"No evidence of radioactivity radiation was found within the crater and immediate vicinity. The field evidence point to a conclusion that a meteoric from an asteroid belt that travels at a great speed from space impacted the location at an angle of 43 degrees created an ejecta at South-Western part."
He also said a crack opening that vary in thickness from 3mm to 4 metres occurred on the wall of most of the buildings in the area, "but not at the base of the buildings".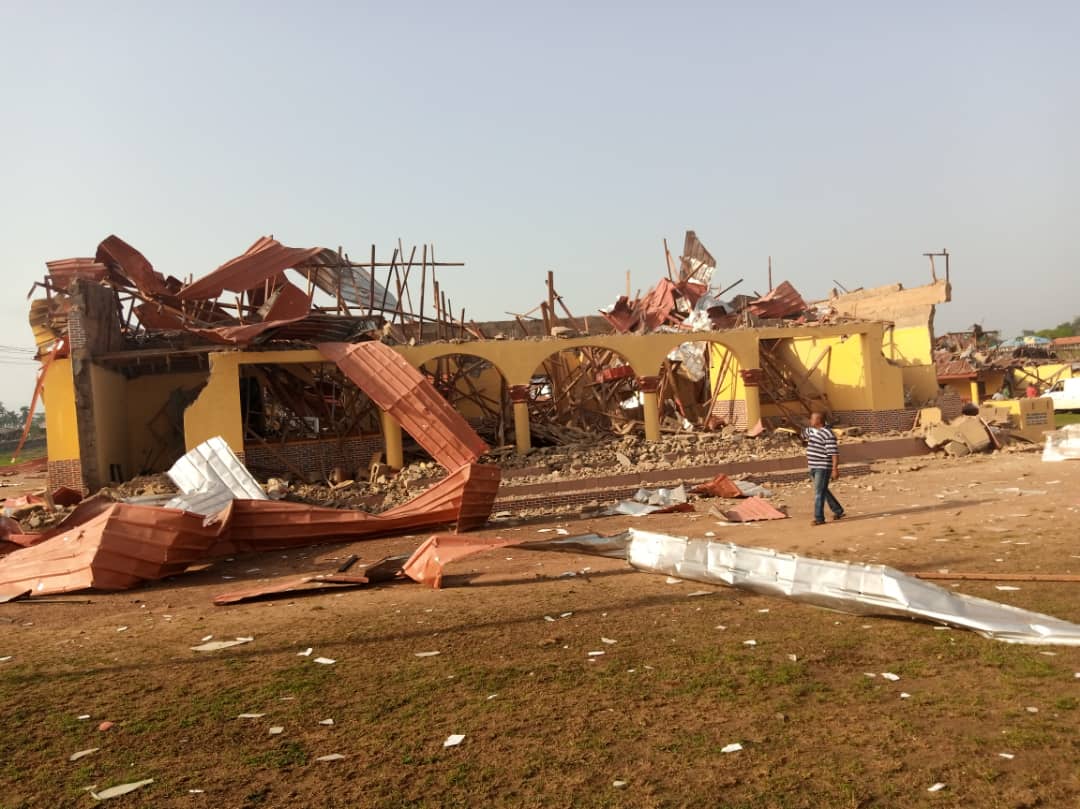 ARE WE SAFE? FIRST OCCURRENCE IN NIGERIA? HOW DANGEROUS?

The meteoroids, as explained earlier, are particles formed when two asteroids smash into another, causing their pieces to break off. An asteroid in itself is a small rocky body that orbits the sun.

This kind of explosions happen elsewhere — and not the first that Nigeria has suffered.

In 1962, a farmer was almost struck by a big meteorite when it came crashing down in Zagami, Katsina state.

One of the most recent of meteor explosions was in March, 2019, which the US detected.

It was the second largest of its kind in 30 years, and the biggest since the fireball over Chelyabinsk in Russia six years ago, in which about 1,000 persons were injured.

Any way to avoid them? The best we could do is to act upon warnings which comes years earlier than such occurrences from the space, The Guardian reports.

"An asteroid threat is a natural hazard that we could probably do something about now with the technology we already have. All we need to do is make it miss Earth, but in such a way that it doesn't then come back some years later and collide with the Earth," it adds.

" frameborder="0" allow="accelerometer; autoplay; encrypted-media; gyroscope; picture-in-picture" allowfullscreen="allowfullscreen">