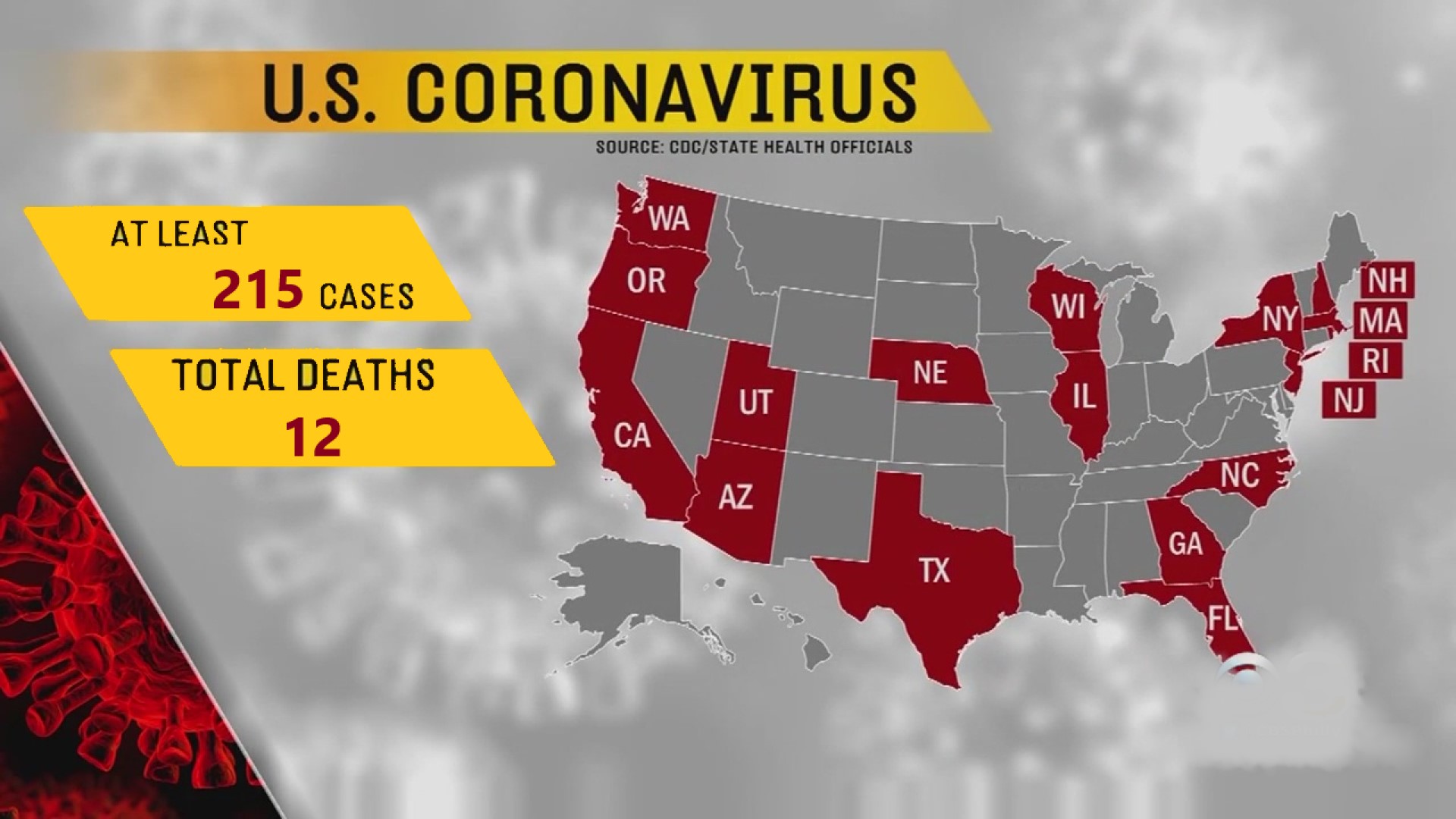 At a Glance
At least 12 have died in the U.S. from the coronavirus, 11 of whom were in Washington.
Two passengers on an earlier cruise of the Grand Princess later tested positive.
The U.S. Senate approved an $8.3 billion spending package to fight the coronavirus.
Seattle employees of Amazon and Facebook have been told to work from home.
An 11th person has died from COVID-19 in Washington state, bringing the death toll in the United States to 12 from the disease caused by the novel coronavirus.
The patient was a woman in her 90s who was hospitalized at EvergreenHealth in the Seattle area, the King County Health Department announced Thursday. She died on Tuesday.
Meanwhile, a cruise ship with suspected links to the first COVID-19 death in California was being held off of San Francisco Thursday while officials prepared to test passengers and crew for the disease.
It was just one more example of the worldwide disruptions the new coronavirus is causing as the number of cases continues to jump daily.
"Countries should be preparing for sustained community transmission," Tedros Adhanom Ghebreyesus, leader of the World Health Organization, said of the 2-month-old virus outbreak. "Our message to all countries is: This is not a one-way street. We can push this virus back. Your actions now will determine the course of the outbreak in your country."
California Cruise Ship
Two former passengers of the Grand Princess, who were on the ship between Feb. 11 and Feb. 21 for a cruise to Mexico, were later confirmed to have the coronavirus. One of them, a person from Placer County, California, died Wednesday. The other person is being treated in Sonoma County.
By the time authorities learned the two people had been on the ship, the Grand Princess had departed for a cruise to Hawaii, the San Francisco Chronicle reported. It returned to California on Wednesday.
On Thursday, the U.S. Coast Guard flew about 200 test kits to the ship. So far, 20 people onboard are showing flu-like symptoms. Sixty-two of the current passengers were also on the Mexico cruise.
By the Numbers
-The number of confirmed cases of the new coronavirus in California climbed to 53 on Thursday. Gov. Gavin Newsom has declared a state of emergency. One person has died in California.
-Washington state officials said the number of positive cases there was at 70 as of 11 a.m. PST Thursday. Most of those were in King County, where a total of 10 people have now died. The total number of deaths in the state is 11.
-The number of coronavirus cases in New York state doubled Thursday to 22. Two newly diagnosed cases in New York City, a man in his 40s and a woman in her 80s, are both in intensive care, Mayor Bill de Blasio said.
In the U.S., 215 cases have been confirmed, according to Johns Hopkins University, and 12 deaths have been linked to the virus. The cases are spread across 18 states.
-Globally, nearly 98,000 people had been infected as Thursday evening, according to Johns Hopkins University. There have been more than 3,347 deaths.
-Germany saw a jump of 109 cases in 24 hours. The country now has 349 cases.
-South Africa reported its first case: a 38-year-old man had who traveled to Italy with his wife. Elsewhere in Africa, cases have been confirmed in Egypt, Algeria, Nigeria, Senegal and Tunisia.
-Chinese officials said more than two-thirds of the patients in China who contracted the new coronavirus have been discharged from hospitals, AP reported. The number of new cases each day has slowed. On Thursday, officials reported 139 new cases of infection and 31 more deaths. In all, the country has reported 80,409 cases and 3,012 deaths.
Latest Developments
-New York Gov. Andrew Cuomo activated three emergency operations centers to monitor and respond to the COVID-19 outbreak: One in Albany, one in Hawthorne and one in New Rochelle.
-A nurses union said 80 of its members nationwide are self-quarantined because of the new coronavirus. Bonnie Castillo, a registered nurse and executive director of National Nurses United, announced the numbers Thursday at a news conference, CNN reported.
-The U.S. Senate voted 96-1 Thursday to approve an $8.3 billion spending package to fight the coronavirus. The measure, which passed the House on Wednesday, next goes to the White House for President Donald Trump's signature.
-A Clark County resident is the first "presumed positive" coronavirus case in Nevada, the Southern Nevada Health District announced in a statement Thursday. The man in his 50s said he had recently traveled to Washington state and Texas. He is hospitalized now, the health district said.
-Colorado's first presumed positive case was confirmed Thursday afternoon by Gov. Jared Polis.
-Tennessee Gov. Bill Lee announced Thursday the first confirmed case of coronavirus has been detected in the state. The patient, a 44-year-old man who lives in Williamson County, had recently traveled out of state, according to the Tennessean. He is quarantined at home with mild symptoms.
-Seattle city officials have bought an Econo Lodge motel in Kent, Washington, for $4 million to use as a quarantine facility, AP reported. The two-story motel's 84 room have doors that open to the outside, instead of into a hallway. Each room also has individual heating and cooling units, which cuts the chance of the coronavirus spreading through a ventilation system.
-Officials in Bothell, Washington, a suburb of Seattle, shut down all Northshore School District schools for up to 14 days, the Seattle Times reported. The move affects 23,577 students, who will take classes online.
-Worldwide, more than 300 million children are out of school because of the new coronavirus, according to the United Nations. Schools have been closed nationwide in at least 13 countries to contain the spread of COVID-19, UNESCO reports. Another nine countries have seen schools closed in various locations.
-Facebook temporarily closed its Seattle office after a worker was diagnosed with the new virus. Employees have been told to work from home.
-An Amazon employee also tested positive for the virus at that company's Seattle office, and employees there also have been told to work from home.
-The United Kingdom reported its first death from the coronavirus. An elderly person with underlying health issues died after being admitted to a hospital in Berkshire, the BBC reported.
-An airline trade group, IATA, says the new coronavirus could cost the industry as much as $113 billion in lost revenue, CNN reported.
-In Japan, Prime Minister Shinzo Abe said all visitors from China and South Korea will be quarantined at a government facility before they are allowed an entry permit, The Associated Press reported. Japan has more than 1,050 confirmed cases.
-Switzerland recorded its first COVID-19 death, a 74-year-old woman, AP reported. As of Wednesday afternoon, 58 infections had been confirmed in Switzerland.
-Britain's Chief Medical Adviser Chris Whitty told Parliament it is "highly likely" that there is now some level of community transmission of the coronavirus in the United Kingdom, CNN reported. He said the UK has 87 cases, but he is expecting the number to "only go up."
-Palestinian authorities are prohibiting all tourists from entering the West Bank and have closed the Church of the Nativity in Bethlehem indefinitely. Many Christians believe the church is built above the place Jesus was born. It was expected to draw tens of thousands of visitors and worshipers during the Easter holiday next month.