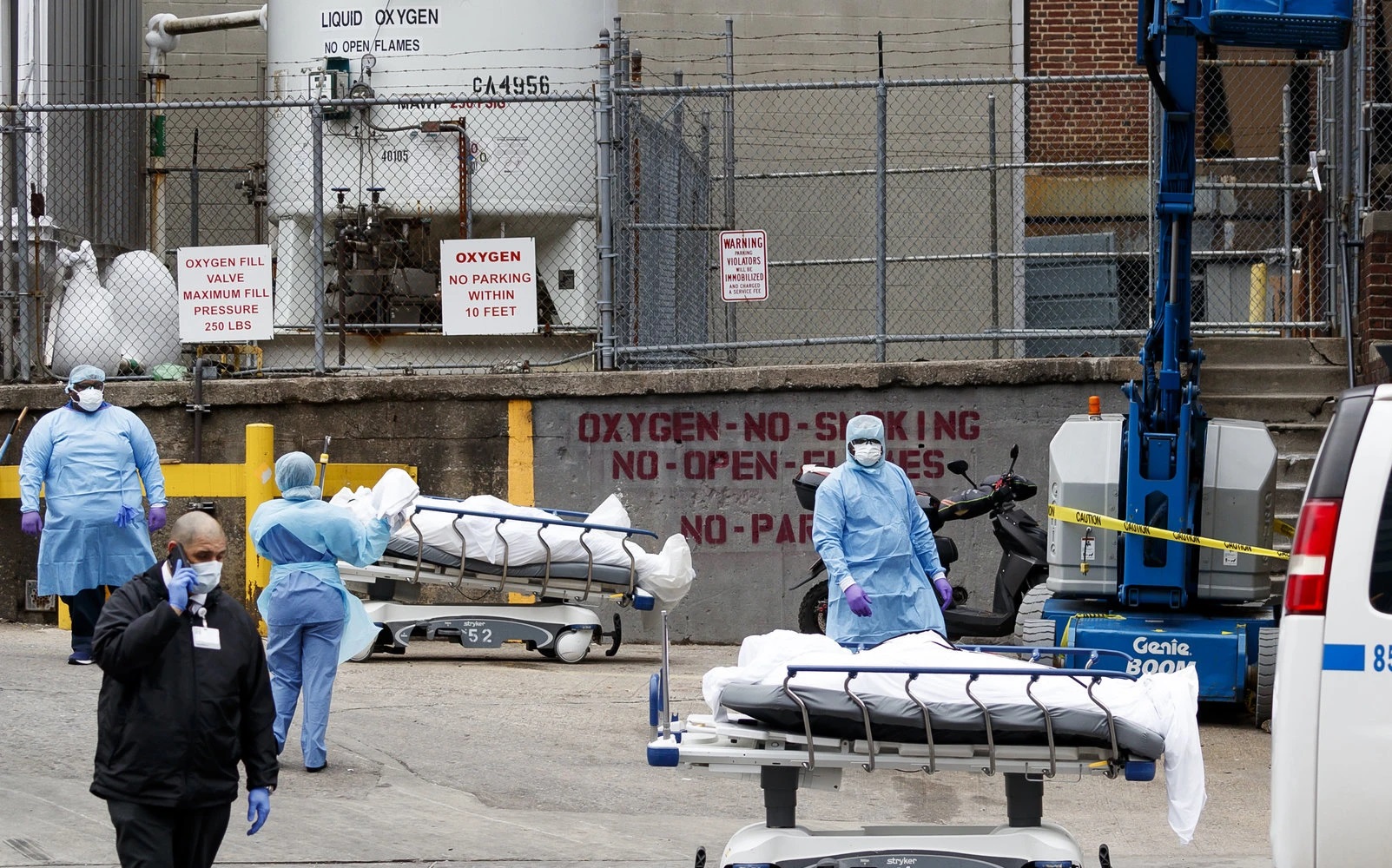 The White House released its first official models of the course of the coronavirus, and the C.D.C. said it was reviewing its guidance on wearing masks as new data suggests people with no symptoms are infecting others.
Right Now The top government scientists battling the coronavirus estimated on Tuesday that the deadly pathogen could kill between 100,000 and 240,000 Americans.
There are at least 811 new coronavirus deaths reported in the US on Tuesday
There have been at least 811 new coronavirus deaths reported in the US on Tuesday, according to a count from CNN Health.
This is the most reported deaths in the United States in a single day since the coronavirus outbreak began. 
There have been a total of 3,815 deaths reported in the US.
Here's what you need to know:
Models predicting expected spread of the virus in the U.S. paint a grim picture.
The top government scientists battling the coronavirus estimated Tuesday that the deadly pathogen could kill between 100,000 and 240,000 Americans, in spite of the disruptive social distancing measures that have closed schools, banned large gatherings, limited travel and forced people to stay in their homes.
Dr. Anthony S. Fauci, the nation's leading infectious disease expert, and Dr. Deborah L. Birx, who is coordinating the coronavirus response, displayed that grim projection at the White House on Tuesday, calling it "our real number" but pledging to do everything possible to reduce those numbers even further.
The conclusions generally match those from similar models by public health researchers around the globe.
As dire as those predictions are, Dr. Fauci and Dr. Birx said the number of deaths could be much higher if Americans do not follow the strict guidelines to keep the virus from spreading, and they urged people to take the restrictions seriously.
The data released on Tuesday was the first time that Mr. Trump's administration has officially estimated the breadth of the threat to human life from the coronavirus, and the disease it brings, known as Covid-19. In the past several weeks, Dr. Birx and Dr. Fauci have resisted predicting how many people might die in the pandemic, saying that there was not enough reliable data.
That is no longer, the case, they said. As of Tuesday afternoon, at least 173,741 people across every state, plus Washington, D.C., and four U.S. territories, have tested positive for the virus, according to a New York Times database. At least 3,433 patients with the virus have died.
As many as 25 percent of people infected with the new coronavirus may not show symptoms.
A startlingly high number of people infected with the new coronavirus may not show symptoms, the director of the Centers for Disease Control and Prevention said, complicating efforts to predict the pandemic's course and strategies to mitigate its spread.
In particular, the high level of symptom-free cases is leading the C.D.C. to consider broadening its guidelines on who should wear masks.
"This helps explain how rapidly this virus continues to spread across the country," the director, Dr. Robert Redfield, told National Public Radio in an interview broadcast on Tuesday.
The agency has repeatedly said that ordinary citizens do not need to wear masks unless they are feeling sick. But with the new data on people who may be infected without ever feeling sick, or who are transmitting the virus for a couple of days before feeling ill, Mr. Redfield said that such guidance was "being critically re-reviewed."
Researchers do not know precisely how many people are infected without feeling ill, or if some of them are simply presymptomatic. But since the new coronavirus surfaced in December, researchers have spotted unsettling anecdotes of apparently healthy people who were unwitting spreaders.
"Patient Z," for example, a 26-year-old man in Guangdong, China, was a close contact of a Wuhan traveler infected with the coronavirus in February. But he felt no signs of anything amiss, not on Day 7 after the contact, nor on Day 10 or 11.
Already by Day 7, though, the virus had bloomed in his nose and throat, just as copiously as in those who did become ill. Patient Z might have felt fine, but he was infected just the same.
Researchers now say that people like Patient Z are not merely anecdotes. For example, as many as 18 percent of people infected with the virus on the Diamond Princess cruise ship never developed symptoms, according to one analysis. A team in Hong Kong suggests that from 20 to 40 percent of transmissions in China occurred before symptoms appeared.
The high level of covert spread may help explain why the novel coronavirus is the first virus that is not an influenza virus to set off a pandemic.
Asian countries see that success containing the virus can be tenuous, a worrisome sign.
Across Asia, countries and cities that seemed to have brought the epidemic under control are suddenly tightening their borders and imposing stricter containment measures, fearful about a wave of new infections imported from elsewhere.
The moves portend a worrisome sign for the United States, Europe and the rest of the world still battling a surging outbreak: Any country's success with containment could be tenuous, and the world could remain on a kind of indefinite lockdown.
Even when the number of new cases starts to fall, travel barriers and bans in many places may persist until a vaccine or treatment is found. The risk otherwise is that the infection could be reintroduced inside their borders, especially given the prevalence of asymptomatic people who might unknowingly carry the virus with them.
Following a recent uptick in cases tied to international travelers, China, Hong Kong, Singapore and Taiwan barred foreigners from entering altogether in recent days. Japan has barred visitors from most of Europe, and is considering denying entry to travelers from countries including the United States. South Korea imposed stricter controls, requiring incoming foreigners to quarantine in government facilities for 14 days upon arrival.
In China, international flights have been cut back so severely that Chinese students abroad wonder when they will be able to get home. In Singapore, recently returned citizens must share their phones' location data with the authorities each day to prove they are sticking to government-ordered quarantines. In Taiwan, a man who had traveled to Southeast Asia was fined $33,000 for sneaking out to a club when he was supposed to be on lockdown at home.
"Even countries that have been relatively successful in managing the pandemic are only as safe as the weakest links in the system," said Kristi Govella, an assistant professor of Asian studies at the University of Hawaii, Manoa, who added that in the absence of cooperation among countries, "closing borders is one of the ways that individual governments can control the situation."
'Never thought I would need it': Americans are putting pride aside to seek aid.
By the hundreds of thousands, Americans are asking for help for the first time in their lives, from nail technicians in Los Angeles to airport workers in Fort Lauderdale, from bartenders in Phoenix to former reality show contestants in Minnesota.
Biting back shame, and wondering guiltily about others in more dire straits, they are applying for unemployment, turning to GoFundMe, asking for money on Instagram, quietly accepting handouts from equally strapped co-workers, and showing up in unprecedented numbers at food banks, which in turn are struggling to meet soaring demand as volunteers, many of them retirees, stay home for safety.
The U.S. death toll passes China's as questions mount about China's statistics.
The United States' coronavirus death toll has moved past China's official count, a bleak milestone hours before the Trump administration planned to release the models that fueled fears that as many as 200,000 Americans could die because of the pandemic.
Although the count from mainland China — 3,305 deaths — has been a subject of intense skepticism, and although Italy and Spain have reported more than 20,000 fatalities between them, the swelling toll in the United States is a grim indication of the outbreak's scale.
The U.S., despite widespread concerns about the availability of testing for the virus, already had the highest known number of infections in the world, and the American toll was at least 3,430 deaths, as of late Tuesday morning.
But there are mounting concerns that some countries, including China, North Korea and Indonesia, are not being forthcoming about the scope of their outbreaks.
China on Tuesday announced more than 1,500 coronavirus cases that had not previously been made public, giving in to pressure for greater transparency nearly two weeks after officials there first announced zero new local infections.
Questions about the accuracy of China's numbers have circulated since the start of the outbreak there, even as the country has touted its apparent success in bringing it under control. The 1,541 newly announced cases were people who had tested positive but were asymptomatic, according to an official at China's National Health Commission.
China had not previously included asymptomatic patients in its public tallies of confirmed cases, even though the World Health Organization recommends doing so, and many within China and abroad had expressed fear about the true scale of the epidemic.
LATEST GLOBAL PANDEMIC FIGURES