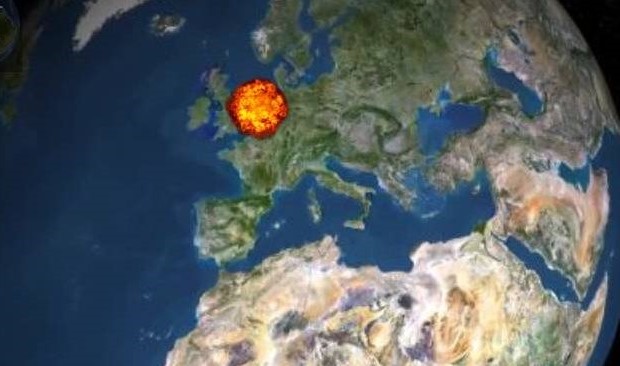 According to astronomer Denis Vida the meteor that entered earth's atmosphere on Sept 22, seen over northern UK, Germany, Belgium, Luxembourg, Netherlands, and Denmark was most likely an earthgrazer.
An earthgrazer is is a very bright meteor that enters Earth's atmosphere and comes out again. See Wikipedia Definition

Vida in his viral tweet mentions: ′′ He entered the atmosphere at 34,1 km / s, reached the lowest altitude of ~ 91 km and jumped into space!"
After that, other professional astronomers commented on the post, mentioning it as they also saw the fireball sliding across the floor.
Dutch archeologist and Twitter user Dr. Marco Langbroek also shared information about the dirt scraper. Rare case of a meteor that definitely entered and out of the atmosphere again! Just like the famous Grand Tetons fireball of 1972 ', he tweeted.
Dr. Marco further wrote: ' Even the meteors are trying to avoid our planet in 2020... ' While explaining the Earthgrazer curve, he said: ' Notice that the apparent ' curve ' does not mean that he traveled on a curved path.
This ′′ curve ′′ is actually due to Earth's curve surface below the fireball! ′′ Some people who didn't know about Earthgrazer considered it a satellite and only realized later what they saw.
One person commented: ' I just read my footage that night and found this at that exact moment, from Cambridgeshire, UK (towards the top of the frame). Looking at the images, I assumed it was a satellite because of longitude.
'Another wrote:' I saw it on a security camera in Netherlands. ' Looks like the meteor knew it was better not to take time on Earth in 2020. '''
See Video: Rogue Asteroid will impact Earth's Gravity in close encounter @ 9:00 minute timeframe