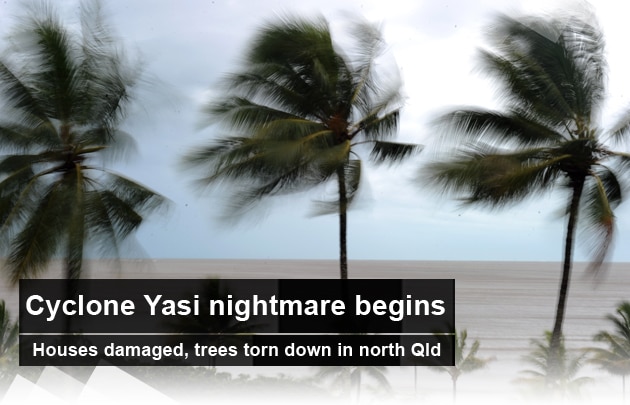 HERALD Sun journalist Patrick Carlyon describes scenes of mass destruction and the shattered lives of Queenslanders.
DAWN revealed vistas of devastation in several North Queensland towns after residents bunkered through the night against winds that took off along with roofs, trees and power poles.
Yasi's blast nudged 285km/h at Mission Beach, where it hit land about 1am (Melbourne time) and blew through the nearby towns of Innisfail and Tully, which were smashed by Cyclone Larry in 2006.
Some residents resorted to huddling under mattresses and in closets in homes that shuddered and shook for up to five hours.
Windows flexed against the extreme wind gusts. Doors blew off and waters seeped in.
And a roar of noise that would be repeatedly likened to trains and planes went on and on and on, interrupted only by a weird calm of up to an hour as the 35km-wide cyclone eye passed over.
Experts likened the cyclone's peak energy to that of 10-megaton nuclear bombs detonating every 20 minutes.
Cassowary Coast councillor Ross Sorbello fled to shelter in a car when the roof was ripped off his mother's home in Tully.
"It is just a scene of mass destruction," he said.
"(Cyclone ) Larry was a boy compared to this."
Yet there were no early reports of serious injuries or fatalities, a relief to Queensland Premier Anna Bligh, who nevertheless cautioned against the burgeoning hope that the cyclone was not as fierce as first feared.
Cassowary Coast Mayor Bill Shannon expressed fears for residents around Cardwell and Tully as calls to emergency services overnight could not be responded to.
The extreme weather stretched from Cairns to Townsville, although Cairns was spared the tempest's main thrust.
About 175,000 homes were without power this morning as the cyclone tracked west-southwest towards towns such as Georgetown and Mt Surprise.
Winds with heavy rain continued to gust above 90km/h. The system is expected to hit Mt Isa, 900km inland, tonight or tomorrow.
There were no reports of structural damage to evacuation centres cramming in 10,000 people overnight.
Storm-surge estimates of up to 9m were not immediately reported in coastal areas, but fears remained that low-lying parts of Townsville and up to 30,000 homes, could be flooded. Sugar cane fields and banana crops were flattened.
Through the early hours, Cyclone Yasi's strength was progressively downgraded from Category 5, when it hit land, to Category 3 less than five hours later, then at daybreak Category 2.
"The early news is not anything like I expected to hear this morning from a Category 5 cyclone," Ms Bligh told Channel 9.
"I do stress we are yet to see any assessments. It's far too early yet to start talking about dodging bullets."
First light suggested that Tully, a sugar cane town where a "Golden Gumboot" statue was erected in 2003 to celebrate the wet and torrid climate, bore the worst of the cyclone.
Emergency workers estimated that about 90 per cent of the main street's structures were significantly damaged. Mr Sorbello guessed that half the town's homes had also suffered damage.
Stephanie Grimaz said houses in her street had been ripped apart: "We can see destroyed homes. The streets are full of debris."
Ingham mayor Pino Giandomenico said: "I've been through half a dozen cyclones and this is the first one that when it hit land, it just kept pumping."