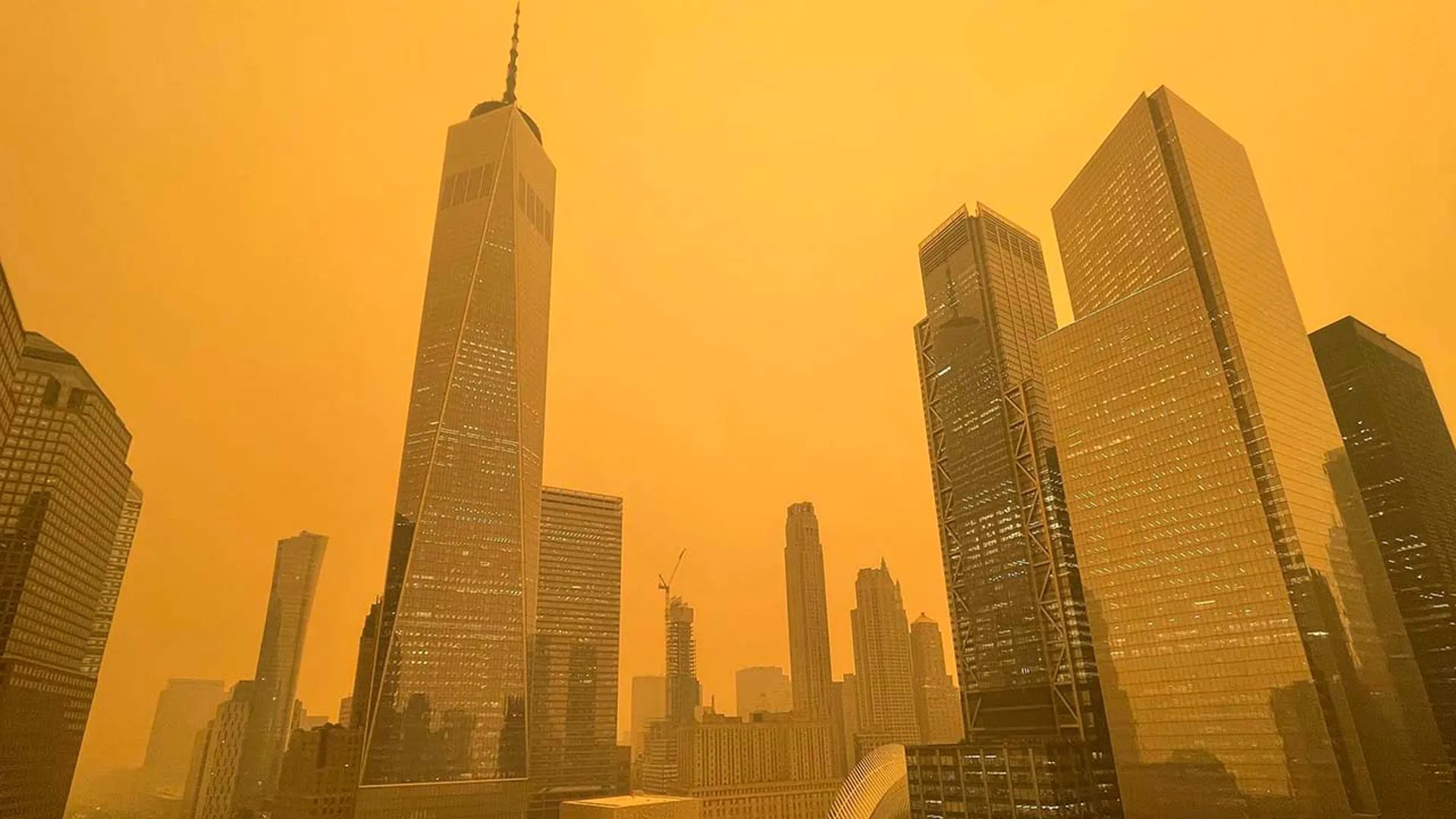 New York City and the surrounding areas are covered in a blanket of hazardous haze caused by smoke blown in from multiple wildfires hundreds of miles away in Canada.
New York City schools have canceled outdoor activities due to haze that has poured into the city from Canadian wildfires - as the air quality hits a worrying level. 
The smokey apocalyptic scenes have created hazardous air quality in the city and other parts of the northeast as officials warn of a "code red" situation.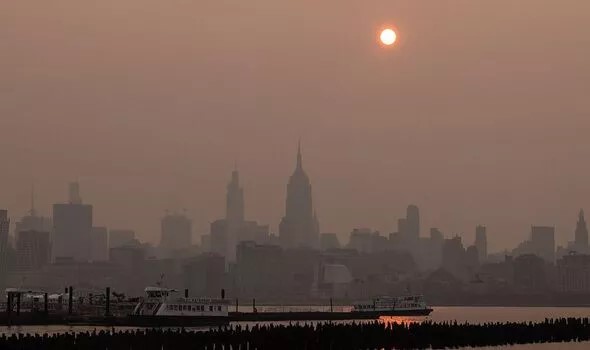 Citizens, particularly young people and those with respiratory problems, are being warned of health implications from the thick smokey atmosphere. 
The New York Department of Environmental Conservation issued the air quality health warning on Tuesday, noting that New York, Bronx, Kings, Queens and Richmond counties as well as surrounding suburbs will be affected. 
The smoke could last for days, according to meteorologist John Homenuk of New York Metro Weather. 
The department recommends that "individuals consider limiting strenuous outdoor physical activity to reduce the risk of adverse health effects."
Eric Adams, New York City mayor, said: "Currently, we are taking precautions out of an abundance of caution to protect New Yorkers' health until we are able to get a better sense of future air quality reports. 
"These recommendations may change based on updated air quality conditions that come in, but, in the meantime, we recommend all New Yorkers to take the precautions they see fit to protect their health."
Wildfires in Quebec and Nova Scotia are being blamed for the haze that has poured into New York City and surrounding areas.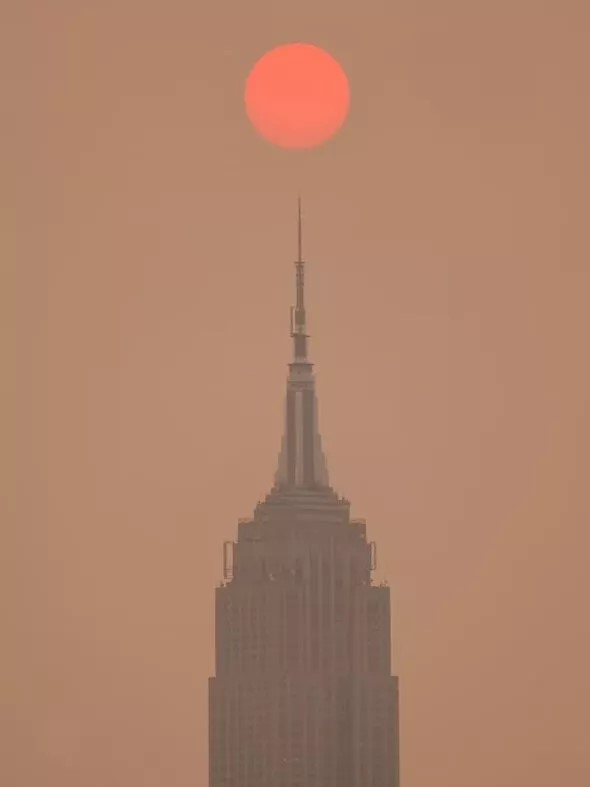 Britta Merwin, FOX Weather meteorologist, said on Tuesday: "Air quality this morning is not great.
"What you're trying to identify is areas marked in red that are unhealthy for everyone. Upstate New York, a little spot outside of Pittsburgh, (and) going over to Columbus, Ohio. We also have a spot very close to New York."
A red code warning has also been declared for parts of New Jersey, with conditions across the Northeast forecast to peak on Tuesday afternoon. 
Merwin added: "We got a lot of sunset photos that were very vibrant with that glow of the sun.
"But to see this haziness over the sky, it's enough to smoke particulate in the air that this could be a concern for air quality, not only for sensitive groups but for just about everybody that lives in the Northeast."
The meteorologist warned that smoke is expected in some parts of the Northeast until Friday while there will be some improvements toward the Great Lakes by Wednesday and Thursday. 
However, experts warn that air quality concerns remain through the next few days. 
"It's no secret that New York is facing extraordinary air quality conditions right now," Basil Seggos, commissioner of the state Department of Environmental Conservation, said during a press conference on Tuesday. "Most New Yorkers – all New Yorkers – have seen the conditions out in the field today: The sky is hazy, visibility is terrible and you can smell the smoke in the air."
Canada has been set ablaze with over 420 wildfires in recent days. The threat of wildfires closer to home has also reached dangerous levels as an unusual weather pattern has set up a rare critical fire risk for the Philadelphia and New Jersey area. 
News Source:  Daily Express US