Parts of Nevada are being overrun by an explosion of flightless, ground-dwelling cannibalistic insects creating nightmares of Biblical proportions.
Business and residents said they are battling millions of Mormon crickets that descended on the state this week in an effort save land and morale. 
In Elko, a city in northeastern Nevada south of the Idaho border, crickets converged Monday, covering roads, vegetation, and even local hospital walls, multiple media outlets are reporting.
"Just to get patients into the hospital we had people out there with leaf blowers, with brooms, at one point we even had a tractor with a snowplow on it just to push the piles of crickets and move them on their way," Steve Burrows, director of community relations at Northeastern Nevada Regional Hospital, told local KSL TV.
Native to western North America, the crickets' populations are cyclic over many years and some residents in the mini-metropolis of just over 20,000 people, are not pleased with their return.
What do Mormon Crickets eat?
According to the University of Nevada in Reno, Mormon crickets can grow larger than two inches and are found in rangelands west of the Missouri River and across all of Nevada. They eat perennials, grass, shrubs and crops, subsequently reducing feed for grazing wildlife and livestock.
Mormon crickets are also cannibalistic and, if their bellies are not full, will eat one another dead or alive.
The insects are not true crickets but are "shield-backed, short-winged katydids that resemble fat grasshoppers that cannot fly," according to the university. Adult Mormon crickets have long antennae and a shiny exoskeleton in a wide array of colors and patterns. 
In mass quantities, their feeding contributes to soil erosion, poor water quality, nutrient depleted soils and other land damage.
Mormon crickets prefer drought conditions and can cause "substantial economic losses to rangeland, cropland, and home gardens," according to the university. "This is particularly true as adults and nymphs of Mormon crickets migrate in a band, eating plants along their paths."
The Nevada Department of Agriculture did not immediately respond to USA TODAY Friday morning to say how many counties reported an infestation.
Buggers' name stems from Utah
Last June, farmers and government officials across Nevada northeast to Montana battled the insects as they destroyed crops.
The insect's name dates back to the 1800s, when the bugs ruined the fields of Mormon settlers in Utah. But amidst drought and warming temperatures – conditions favored by the insects – outbreaks across the West have worsened.
According to Utah State University, an infestation is when there are at least eight crickets per square yard of land.
Because Utah's spring has been cool and wet, only "a few small infestations" have been reported so far this year, according to Utah Public Radio.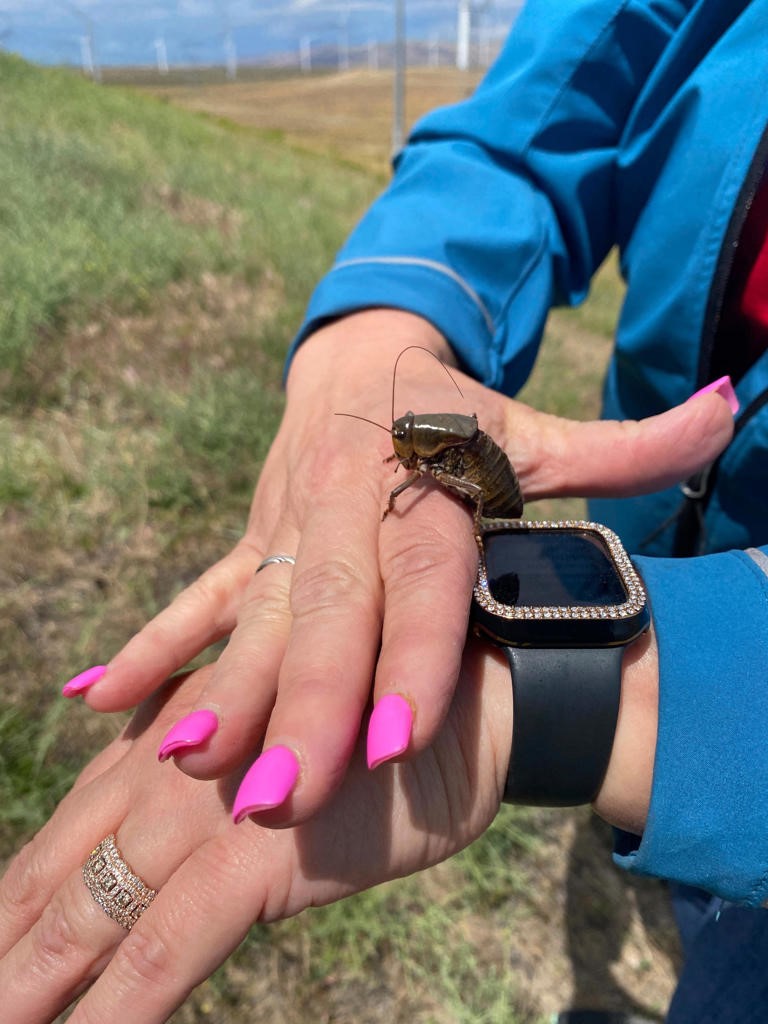 'Greasy with the squashed entrails'
In 2017, Arlington, Oregon, saw its largest Mormon cricket outbreak since the 1940s. The roads were "greasy with the squashed entrails of the huge insects," which damaged nearby wheat crops, the Associated Press reported.
Skye Krebs, a local rancher there, called outbreak "truly biblical."
"On the highways, once you get them killed, then the rest of them come," Krebs said.
Farmers who experience infestation issues are encouraged to call the their state's respective Department of Agriculture.