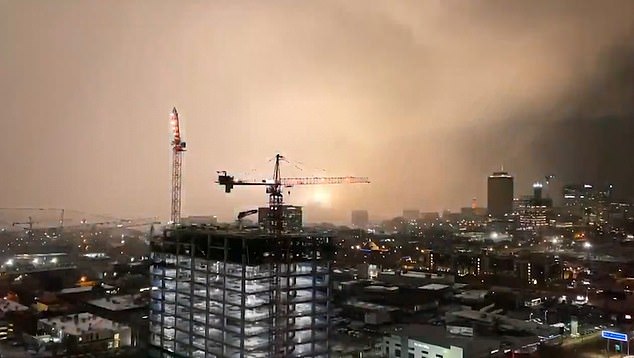 A powerful tornado hit the city of Nashville, Tennessee on March 3, 2020, causing extensive damage. The twister has left at least 6 people dead, several others injured, and many buildings in crumbles.
"The tornado damage in Nashville is heartbreaking. Residents are being evacuated right now," said NC5 reporter Chris Conte. "Sadly, the tornado damage in Nashville is only going to become profound as the sun comes up."
The National Weather Service (NWS) confirmed the tornado northwest of Downtown Nashville around 06:39 UTC (0:39 LT), adding that the twister was on the ground for roughly 45 minutes, moving east about 72 km/h (45 mph) before moving through several counties in Tennessee.
"This is an extremely dangerous tornado," NWS wrote. Nashville's Germantown neighborhood reportedly suffered some of the worst damage, where a gas leak forced an evacuation of the IMT building.
The Nashville Fire Department (NFD) said officers and personnel are on the scene, responding to reports of about 40 structure collapses. Moreover, the Metro Nashville Police Department (MNPD) said there was major destruction in the Central downtown and East Precincts.
Authorities reported at least 9 casualties and many injured.
https://twitter.com/MacNicol1957/status/1234767457598033920/photo/1
https://twitter.com/HipstaPlsxox/status/1234762236381495296/photo/1