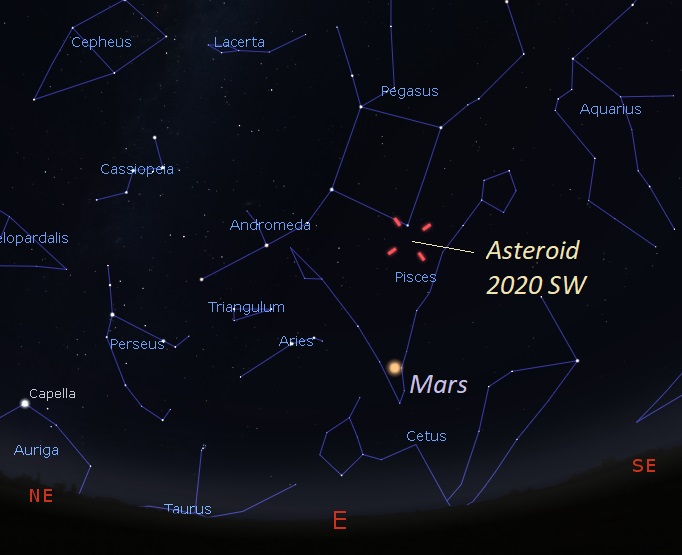 A newly-discovered asteroid designated 2020 SW is expected to flyby Earth at just 0.07 LD / 0.00019 AU (28 423 km / 17 661 miles) at 11:18 UTC (± 06:18) on September 24, 2020.
This is the 66th known asteroid to flyby Earth within 1 lunar distance since the start of the year and the 7th so far this month.
It is also the 4th closest asteroid flyby so far this year and 24th closest on record.
Asteroid 2020 SW was first observed at Mt. Lemmon Survey, Arizona on September 18, 6 days before its close approach.
The object belongs to the Apollo group of asteroids and has an estimated diameter between 4.3 and 9.7 m (14.1 - 31.8 feet).
The flyby is expected to take place at 11:18 UTC (± 06:18) at a speed (relative to the Earth) of 7.7 km/s.
{source}<iframe src='https://gfycat.com/ifr/KnobbyVengefulFantail' frameborder='0' scrolling='no' allowfullscreen width='640' height='432'></iframe>{/source}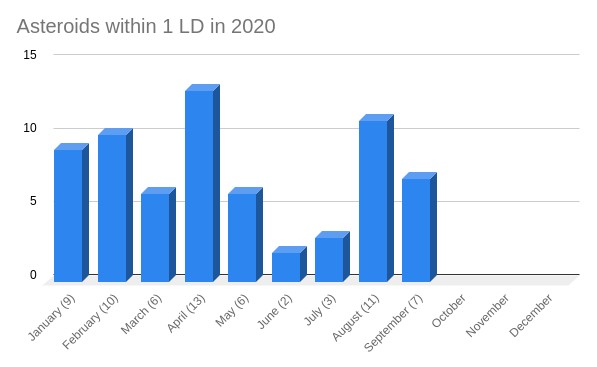 {source}<iframe src="/" width="734" height="414" style="border:none;overflow:hidden" scrolling="no" frameborder="0" allowTransparency="true" allow="encrypted-media" allowFullScreen="true"></iframe>{/source}